Carls Jr Western Bacon Cheeseburger (Copycat)
Nimz1466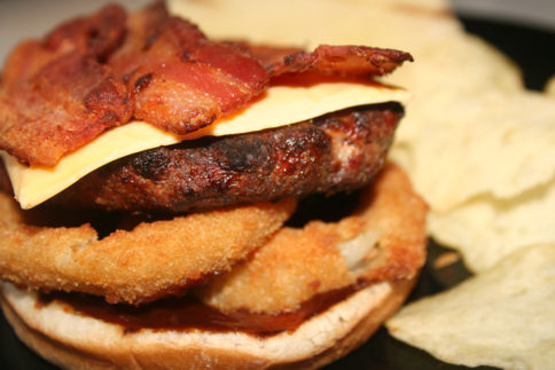 I got this recipe off another site and want to post it here for easy access. We love these burgers!

Well DH wanted his usual hamburger with mustard and the fixens. I made mine as per this recipe and absolutely loved it. I never eat a whole burger, and DH decided mine was much better and finished it off for me. Thanks for sharing this fantastic burger. :)
Bake Onion Rings, according to your recipe or package directions.
Cook Bacon according to your recipe or package directions.
Grill Hamburger until done.
Grill Bun faces (both bottom and top) on clean grill, enough to warm up and give grill lines.
To assemble, put 1 Tablespoon of BBQ sauce on the bottom bun.
Place 2 Onion Rings on Bun Bottom.
Place Burger on top of Bun.
Place Cheese on top of Burger.
Place 2 slices Bacon on top of Cheese.
Spread 1 Tablespoon of BBQ Sauce on Top of Bun.
Place on Top Bun and Enjoy.
The recipe called for a Bold and Spicy BBQ sauce. I used what I had on hand and it was still very good.
Adapted from Todd Wilbur's book More Top Secret Recipes.