GrandmaG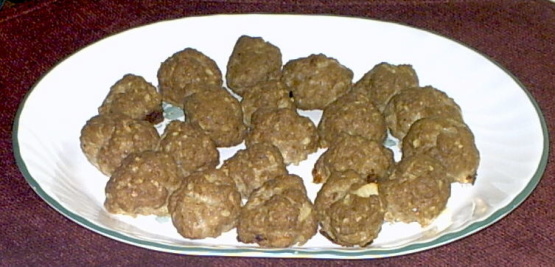 A snap to make and a breeze to freeze! This is a basic recipe for meatballs suitable for all uses. Feel free to be creative and add any additional spices or flavors you need to suit your tastes.

this recipe took no time at all..total of 20 min maybe. However it wasn't amazing..i think oven cooked meatballs taste dry. Regardless of the fact, on this particular day this easy recipe came in handy.
Mix ground beef, egg, onion, carrots, breadcrumbs, milk, Worcestershire sauce, salt and freshly ground black pepper to taste together.
Shape mixture by Tablespoonfuls into 1-1/2-inch balls.
Place the meatballs in a lightly greased 13x9x2-inch or 15-1/2x9-1/2x1-inch baking dish.
Bake, uncovered, in a 400 degree Fahrenheit oven until light brown, about 20 to 25 minutes.
Drain off any excess fat.
Use meatballs as desired.
FREEZING:.
Cover and allow meatballs to cool slightly before freezing. No special equipment is needed in the preparation for freezing. Ziplock bags work fine for me. Allow meatballs to thaw about 30 minutes at room temperature before using. Use as desired with your favorite recipes.