Caribbean Yam (Sweet Potato) Bake
karen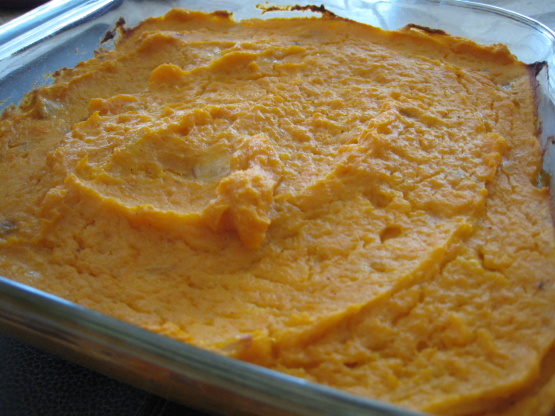 A unique combination of sweet potatoes and bananas.

Top Review by LGRM1
UPDATE: The following will definitely help eliminate the watteriness: use butter instead of margarine; use half of the lime's juice, but all of the zest; do not mash the banana, but dice it as stated. HTH! ORIGINAL REVIEW: Very yummy -- love the bananas in this. But my nutmeg dropped in the bowl after grating half, and I tried to compensate with 1/4 tsp allspice, which made this taste a bit like pumpkin pie. Don't do this; half the nutmeg would have been fine, but not the allspice. Also, I made this up, then froze, then baked. The bottom was watery. I will try freezing again w/a little less rum and half the lime juice (boys thought the lime was overpowering) to cut down on the wateriness. Also, I'll try butter instead of margarine to see if that cuts down on wateriness. I served this w/Tequila Lime Chicken and will add rice to the menu next time.
In large bowl, combine sweet potatoes with eggs, brown sugar, margarine, rum, nutmeg, lime juice and zest until thoroughly mixed.
Fold in diced bananas.
Turn into shallow, greased 5-cup baking dish.
Bake in a 375-degree oven for 40 minutes.