Caribbean Sweet Potato Rum Cake With Butter Rum Frosting
Jostlori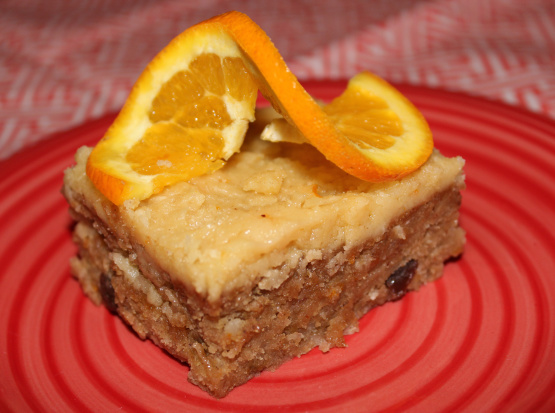 This delicious and decadent cake has a firm texture, closer to a bar/brownie. It was created for the Ready Set Cook #8 contest. To enjoy the full flavor of the spices and rum, make a day ahead and refrigerate overnight. Best served cold.

This is simply delicious! Even DH, who is not much into cakes, loved it. The icing alone is worth the price of admission! The cake is a dense spice cake, very flavorful and moist. It would be good even without the icing. But both together - WOW! Thanks for posting! Made for team Gourmet Goddesses, ZWT9
Soak the raisins in rum for at least 30 minutes to plump them up.
Meanwhile peel, dice and boil sweet potatoes until tender. Mash and let cool.
Preheat oven to 350º, and prepare 13 X 9 baking pan with cooking spray and a little flour.
Combine all of the cake ingredients (except raisins) in a large mixing bowl. Stir to combine. With an electric mixer, mix on medium speed for about 2 minutes. Fold in the raisin/rum mixture. Spread into the prepared baking pan and bake for 25 minutes, or until a toothpick inserted in the center comes out clean. Cool the cake completely before frosting.
To make the frosting, melt the butter in a large saucepan, and allow it to brown just lightly. Remove from the heat and add the remaining frosting ingredients. Beat until smooth and creamy. You can add a little additional rum, orange juice, or water to thin it if necessary, or add a little confectioners sugar if you need to thicken it. Spread over the cake and refrigerate overnight. Serve cold.