Caribbean-Style Chicken Sandwich
pammyowl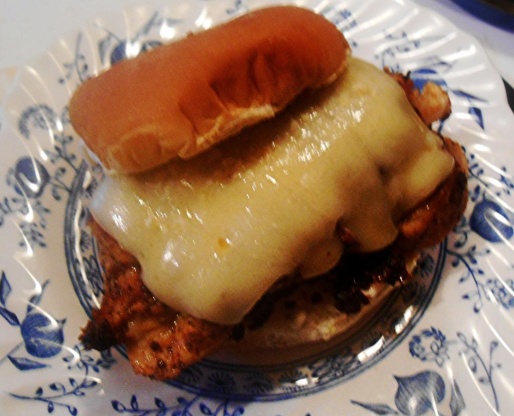 I had a craving for a favorite dish from a restaurant, so I decided to see if I could imitate it at home. Jerk seasoning recommendations for marinating will vary - so check your recipe or bottle to see how long in advance you'll need to prepare the chicken. I use a homemade one that marinates overnight.
Apply the jerk rub to the chicken, leaving enough time to marinate as stated by the recipe or bottle you are using.
When ready to prepare dish, combine the garlic, mayonnaise, and cayenne pepper, and mix well.
Add the diced roasted red pepper and pulse through a blender or food processor.
Prepare a pan with nonstick cook spray and cook the chicken over medium heat, flipping it occasionally until it is cooked through.
Split and toast the wheat buns.
Spread red pepper mixture over one half and place the cheese slice on the other.
Top the cheese with the hot chicken, add the roasted peppers, placing a mixture of both kinds on each sandwich, and top with the remaining bun half.
Enjoy as is, or you can give it a quick 20-30 seconds in the microwave to heat up the roasted peppers, as well.