Thorsten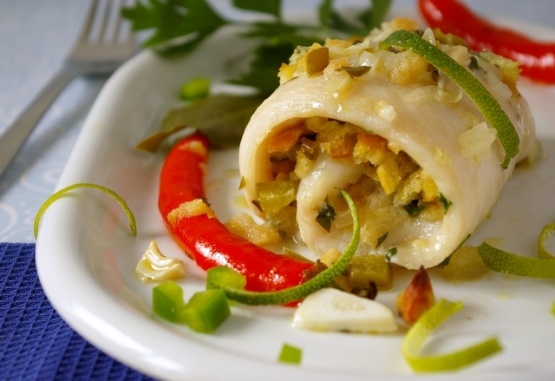 Caution: This recipe includes Almonds; anyone with a nut intolerance should eliminate this product entirely from the recipe. Farm-raised catfish is reported to be naturally low in overall fat and high in protein. Suggested serving with a plain green salad, (olive oil and balsamic vinegar dressing); steamed corn on the cob. A lovely, thick-meat fish, enjoyed frequently by our household. A recipe brochure by DELTA PRIDE, picked up at the supermarket, added to my files and referenced frequently for quick cooking meals.

Did not care for this one much and think it may be because I have never poached fish and wasn't accustomed to it - also, I'm not a big fan of catfish. Stuffing was very good and seasonings were interesting!
Preheat oven to 400 degrees F.
Melt margarine in skillet.
Add green pepper and 2 tbsp onion.
Saute until onion is transparent.
Add almonds, (OPTIONAL) bread crumbs, oregano, one tbsp lime juice, coriander (or parsley), and salt.
Mix well.
Spoon filling down centre of each catfish fillet.
Roll up and secure with toothpicks.
In shallow baking pan, combine remaining 2 tbsp onion, water, garlic, bay leaf, red pepper and remaining 3 tbsp lime juice.
Place catfish in pan.
Bake in pre-heated oven for 30-35 minutes, basting occasionally until catfish flakes easily.
Remove catfish to serving platter.
Granish platter with strips of lime peel.