Caribbean Spinach Plantain Rolls
hojung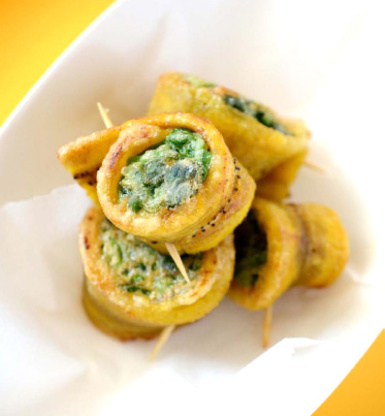 Popular finger foods in the party time with friends! Fairly ripen plantains can make the beautiful rolls. They can be served either hot or cold.
2

large ripe plantains

500

g fresh spinach, washed chopped

2

tablespoons onions, finely chopped

2

teaspoons garlic, finely chopped

1

egg, beaten
1⁄2 cup flour
salt & pepper
oil (for frying)

10

toothpicks (or wooden cocktail stick)
1.Cut the each plantains lengthways into 4~5slices.
2.Do pan frying the slices of plantain on both sides.
3.Stir the onion, garlic, and spinach and season them with salt and pepper.
4.Make the fried plantains into rings with toothpick, then pack each ring with cooked spinach.
5.Put the rolls into the egg beaten and flour, then fry them until golden brown.
Cooking tip: You can cook some herbs with the spinach. After cooking the spinach, remove the excess moisture.