Prep 15 mins
Cook 10 mins
Another Andrew Weil, M.D. recipe that I just changed just slightly. This is very well received
Directions
In large saute pan, heat oil over medium-high heat until hot but not smoking. Add pimiento, green pepper and garlic.
Saute 2 minutes.
Add beans, Tabasco, and vinegar.
Bring to boil, reduce heat to low, cover nd simmer 5 minutes.
Stir in rice and cilantro. Stir.
Salt and pepper to taste.
Serve.
Reviews
Most Helpful
I rated this recipe because it was bland for my tastes. I like savory food. The recipe is easy to make and I will make it often. I will spice it up next time.
Loved this recipe; it is my first attempt making rice and bean...wow what great flavor. I did use coconut oil instead of olive oil and a chopped onion, but followed the rest exactly. I am co-host on the Caribbean forum and your recipe will be the first one I post. hope you come and check us out.
Rita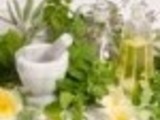 Love Dr. Weil and loved this recipe. I served it with Simple Caribbean Jerk Chicken and Caribbean Cucumber Salad. I typically never overeat and I ate way too much of this rice. I did add some sliced green onions when sauteing the veggies and think you could add just about anything you wanted to. I enjoyed the flavor of the roasted red pepper and cider vinegar. Thanks!