3 Reviews
I did this exactly to plan except, well, overdid everything a little. It was delicious! The salsa is both sweet and spicy; sometimes it seems the celantro dominates, sometimes the pineapple, and the spice mix on the pork loin is perfect. We served this with a packaged black beans and rice kit, and the salsa was great with that too. (P.) Made for Zaar World Tour 5.

Loved it, loved it, loved it! Ate it every meal until it was gone. Even the hubby loved it. I didn't use the pork loin (didn't have it) and increased the kielbasa to 1 lb and used canned pineapple tidbits instead of fresh pineapple. Still delish!
Lori- This was soooooooooooo good! I followed the recipe exactly and I had no trouble with it. It is easy and very very very GOOD! Thanks!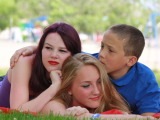 Caribbean Pork Bowl