loof751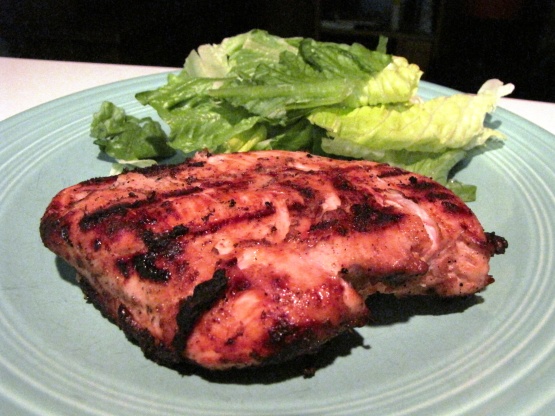 A delicious, authentic rendition of an island classic.

WOW we just loved this chicken! Perfect combination of spices with enough juice/vinegar to make the chicken tender and juicy. We used boneless, skinless breasts and marinated for about 12 hours, then grilled. Great recipe - thanks for sharing it! Made for Fall PAC 2009
In a large bowl, combine the allspice, thyme, cayenne pepper, black pepper, sage, nutmeg, cinnamon, salt, garlic powder and sugar.
With a wire whisk, slowly add the olive oil, soy sauce, vinegar, orange juice, and lime juice.
Add the Scotch bonnet pepper, onion, and green onions and mix well.
Place chicken into one-gallon plastic freezer bag; pour marinade into bag; remove excess air from bag and seal. Marinate for at least 12 hours, turning bag every 6 hours -- marinate longer if possible, up to three days!
Preheat an outdoor grill.
Remove the chicken from the marinade and grill for 6 minutes on each side or until fully cooked.