Caribbean Fish in a Packet
jswinks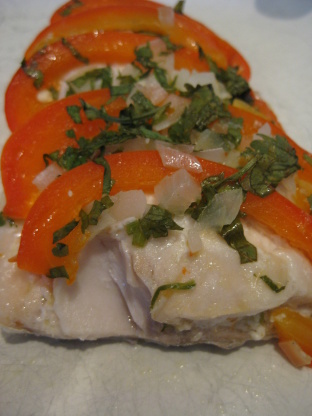 You will never get the complaint about dry yucky fish using this recipe. This recipe keeps all the goodness in the fish where it belongs.

Top Review by Bergy
Missey Wombat this is 5 star all the way. It is simple to prepare, tastes fabulous and the presentation is impressive. When I put the onions, red pepper & cilantro on the fish filet I arranged them in artistic designs so when I served them they looked so beautiful - much oohs & ahs. The cilantro gives that extra flavor & I used a whole HOT red chili pepper finely chopped. Served with a wedge of Lime on the side. I also seved Garlic mashed potatoes, carrot & turnup combo and fresh asparagus baked. Oh yes I used Pickeral filets. I think this recipe would be wonderful with Halibut too. Wonderful meal Thanks Missey Wombat Later date - it went over so well the first time that I had to do it again for this special fussy eater - she ate the whole thing - It is a very tasty, eye appealing recipe thanks again Missey Wombat
Preheat the oven to 450 deg F.
Cut 2 sheets of aluminium foil, 12 x 24 inches.
Fold each sheet of foil over to make a square of double thickness.
Brush a little oil on the centre portion of each square.
rinse the fish and prepare all of the ingredients.
Place a fish fillet on each square.
Top with the capsicum, and sprinkle with the oliv oil, spring onions, cilantro, lime juice, chiles, salt and pepper.
Fold the foil into airtight packets.
Bake for 20 minutes.
Open carefully[to avoid a blast of steam], and check that the fish is done.
Transfer the fish,vegetables and juices to serving plates.