karen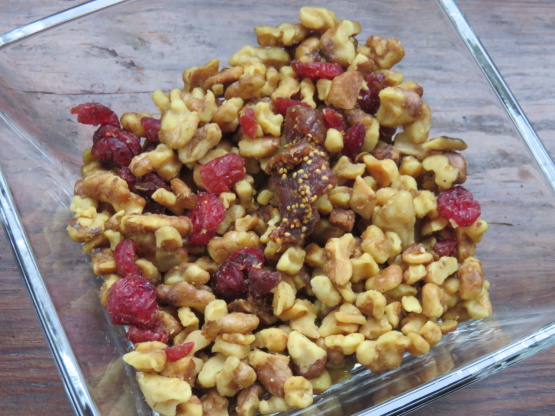 From Land o Lakes Favorite Appetizers # 41.

Top Review by karen
I really am enjoying this snack. I did cut the recipe in half, but used a little less than half in nuts. As a result, I had a bit too much butter sauce so I should have let the nuts toast a little longer as they were still wet when I took them out. But all is good....I just eat the with a napkin handy and I left them uncovered overnight. Fabulous flavor. I used walnuts with figs and craisins.
Heat oven to 350.
In large bowl combine butter, curry powder and salt; add pecans.
Spread on 15x10x1-inch jelly roll pan.
Bake, stirring occasionally, 10-12 minutes or until lightly toasted.
Spread on cooling rack.
Cool completely.
Add tropical fruit mix; toss to combine.