Caribbean Cruise Cocktail
Mandy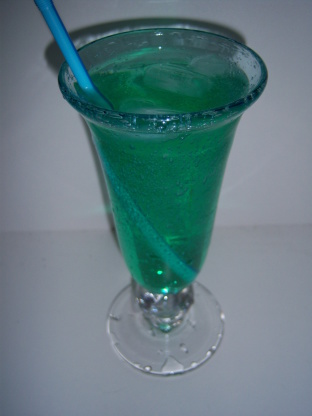 Next best thing to being there! I adjusted the recipe after reading Boomette's helpful review.
I combined all ingredients even the 7up. I wasn't sure. The result : the shaker opened and half the drink felt on me, on the floor, on the oven lol I don't know why. I did 2 servings of this drink, so 2 dashes of 7up. Maybe it was too much. I found it too sweet. Maybe I could reduce the midori and blue curacao or increase the vodka. Thanks Cookiedog :) Made for Beverage Tag.
1⁄2 ounce vodka
1⁄2 ounce melon liqueur (midori, melloni...)
1⁄2 ounce peach schnapps
1⁄2 ounce blue curacao
1⁄2 ounce pineapple juice

1

dash carbonated carbonated lemon-lime beverage (if you like a less sweet drink use club soda)
Combine all ingredients except soda and garnishes and shake well. Pour into a cocktail glass over ice and add soda to taste. Garnish with a lime wedge and a cherry (and an umbrella if handy).