2Bleu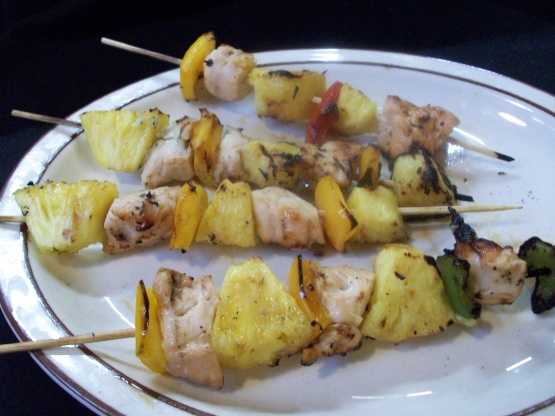 I really like the fruit with the meat in this. Very quick and easy to make. Recipe include 4 hour marinating time.

This is very good. I enjoyed the sweet flavor (we used orange marmalade in lieu of the mango chutney). This are fun to eat and rather delicious.
Soak skewers in water at least 20 minutes before assembling kabobs to prevent burning.
Peel and core pineapple, cut into 1 inch chunks.
Alternately thread bell pepper, pineapple and chicken onto skewers.
Place in a shallow baking dish.
Combine chutney, orange juice, vanilla and nutmeg in a small bowl; mix well and pour over kabobs;
Cover and refrigerate up to 4 hours.
Preheat broiler or do on bbq.
Spray broiler pan with nonstick cooking spray; place kabobs on prepared broiler pan.
Broil 6 to 8 inches from heat 4 to 5 minutes on each side or until chicken is no longer pink in center.
Transfer to serving plates.