Caribbean Chicken With Pineapple Salsa....
teresas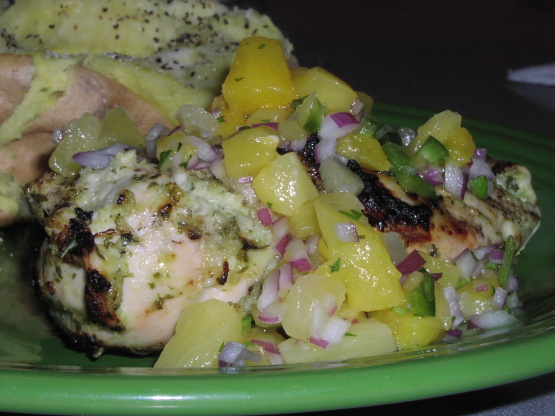 From: Valerie Lindsey This delicious recipe has a little kick from the jalapeno peppers and sweet from the pineapple and juice. Our family LOVES this dish. Be sure to cook it on the grill to do it justice! Healthy, low fat, low sugar. This is a guilt free dish. Delicious served with baked sweet potato and green salad with a sweet vinaigrette dressing.

I followed your recipe right on down, but another time might just cut the use of the jalapeno back by half! I don't mind noticing the presence of it, but just don't want it to dominate! Yeah, I know ~ What's just 3/4 of a little chili gonna do, but that's just me! Anyway, we can say that we thoroughly loved what we got & will be happy to make it again, since we do eat a lot of chicken breast! Thanks for sharing this great recipe! [Made & reviewed in Zaar Chef Alphabet Soup recipe tag]
Make salsa first.
Combine all salsa ingredients except cilantro and refrigerate up to one day. Add cilantro just before serving.
Puree all ingredients for chicken marinade and put in plastic Ziploc bag with chicken. Marinade no more than 30 minutes. Grill and serve.