Caribbean Chicken (Marinade)
teresas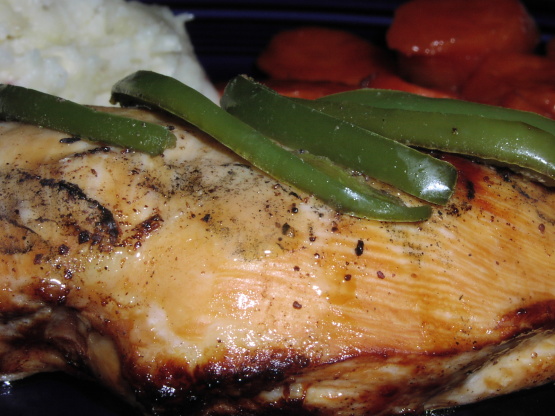 Inspired by jerk chicken for my family and we just love it! Use the seeds in the peppers if you like the heat. Hope you enjoy it!

Top Review by Debbb
This recipe made the most amazingly juicy chicken!! I don't know what it was but the marinade made a "skin" on the meat, keeping the juices sealed in during grilling. The flavour was good - a little salty & not at all hot. I had already discarded the seeds when I saw the note about adding the seeds for some heat. I cooked the breasts whole & wish I had thought to save the peppers from the marinade & fried them up as a little side. Unlike the photo posted by TeresaS, my chicken ended up a very dark brown.
Combine the jalapeño pepper, garlic, vinegar, soy sauce, cinnamon, nutmeg, cloves, salt and pepper. Coat the chicken breasts and let marinate overnight.
Choose your favorite cooking method to prepare the chicken. We like kabobs on the grill with fruit and veggies.