jswinks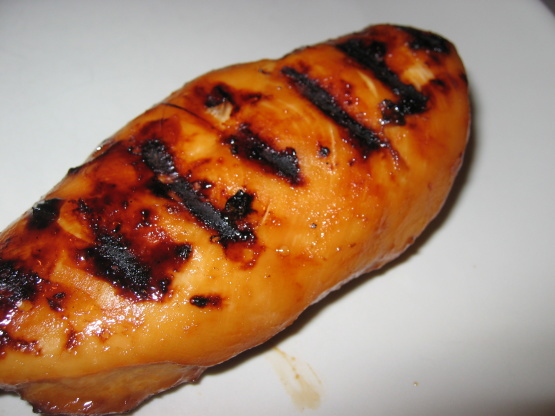 I don't know where I go this recipe, but it has a very interesting mix of flavors that come together for great chicken. I usually double the the marinade and set half aside before I marinate the chicken. I cook the marinade I set aside at a low boil until reduced and has a syrupy consistency, stirring often. Baste chicken while it is grilling three or four times. I did not include marinating time in the prep time.

This chicken was so pretty after grilling. I should have doubled the marinade as mentioned and reduced it for a dipping sauce. Thanks.
Combine pineapple juice, lime juice, brown sugar, soy sauce, water, molasses, and red pepper in a shallow glass dish or zip lock bag until sugar is dissolved. Add chicken; cover dish or close bag. Marinate in refrigerator up to 6 hours, turning once.
Grill chicken, covered, over medium coals, 10 to 15 minutes or until chicken is cooked through and juices run clear.