Cardamom Infused Chicken With Rice (Saleek)
Rita1652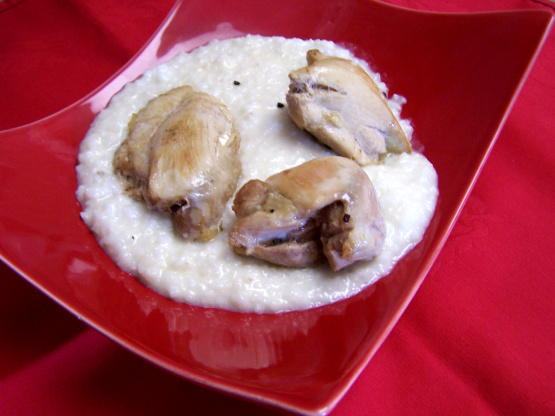 This dish is my ultimate comfort food. It's commonly eaten in winter and during the month of Ramadan for the pre-dawn breakfast, but for me it's a regular at least 2 or 3 times a month. Its always served with doggos (Saudi salsa). (Note: in Saudi the thigh and drumstick is not disjointed and is served as one portion).

I *really* wanted to like this but the mastikah completely overpowered the chicken. If I were to tackle this recipe again (haven't given up completely), I would reduce the amount of mastikah significantly. I also did not like the mushiness of the rice cooked in milk. Perhaps this just wasn't a good recipe fit for me. But, I learn something new everyday and it was an interesting laboratory experiment nonetheless. Sorry!
Boil chicken in the water with cardamoms and salt, until soft and tender (1 hour).
Remove chicken to an oven tray.
Strain chicken broth into a big bowl and pour back into the cooking pot.
Add rice to the broth, taste for salt.
Cook rice till extremely soft and mushy.
Add milk and simmer for 10 minutes, stirring continually on low heat.
Heat ghee and mastikah in a saucepan on the stove till mastikah melts (it would not work in the microwave).
Add melted mastikah to the rice and mix well. Switch heat off close pot and rest for 10 minutes.
Pop chicken under the grill to redden.
Place rice onto serving plate arrange chicken over the rice.
Serve with doggos (recipe #110095) and Arabic salad (recipe #90140).