Rita1652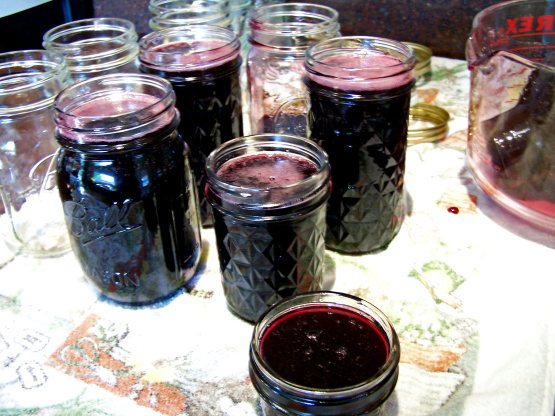 I found this on line and how good does it sound? Cardamom. Yummy! Cardamom is very aromatic and has warming properites.
3 1⁄2 lbs concord grapes, stemmed, washed making 5 cups of juice
1 1⁄2 cups water

1

(1 3/4 ounce) box dry pectin

6 -7

cups sugar (this calls for 7 but 6 is sweet enough and does thicken to a jell)

1

tablespoon green cardamom pods, crushed and placed in a tea infuser
Place cardamon in a tea leave holder or cheese cloth.
Cook grapes and cardamon in water in a covered saucepan.
Strain mixture through cheesecloth overnight.
Measure 5 cups of the juice and pour into a 5-quart kettle with the cardamom.
Add the pectin and cook over high heat, stirring constantly, until the mixture comes to a full, rolling boil.
Brushing sides of pot with a wet pastry brush.
Boil rapidly ONE minute, stirring constantly.
Add sugar and cardamom and boil rapidly again for one minute.
Remove jelly from heat, remove cardamon and discard, skim off foam, and pour into hot sterilized jars, leaving 1/2-inch space at the top of each jar. Process in water bath for 10 minutes.