Carbonara Healthier With Greens
Rita1652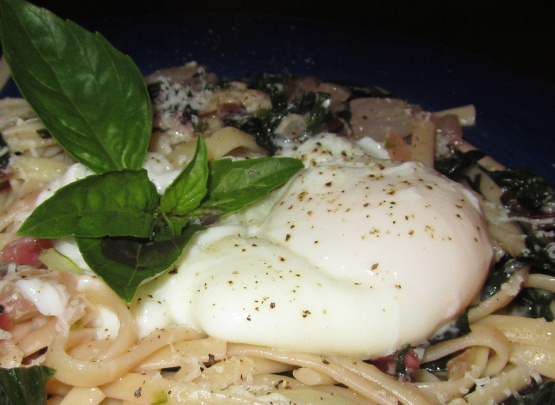 An exotically, quick, inexpensive and impressive Italian pasta dish based on eggs, pecorino romano cheese, pancetta or bacon or Bacon substitute, and lots of black pepper served on spaghetti, fettuccine, rigatoni or linguine. Keeping it low calorie I poached the eggs but if you have no worries about weight go ahead and fry it up. I also use olive oil but you can use butter or bacon fat. Bacon (for my DH) is also an option vegetarians can also use bacon bits made of soy for that flavor. I found it delish without it but DH raved about his dish with the bacon (Oven Cooked Bacon With Black Pepper and Brown Sugar). I used swiss chard but try any green you like.

Wow! This is incredibly yummy!! Had to write a review (and I'm not even done eating yet). I skipped the bacon entirely. Didn't have any fresh basil, so I just sprinkled in some dried. Fried the eggs because I've never poached an egg and I was worried I would screw it up. ;-) Used red chile pepper flakes since I didn't have fresh. Oh, and I didn't have any spaghetti, linguine, or fettucine (I was shocked), so I used gemelli (kind of like a tight rotini) and it worked just fine. Next time, I would add even more of the chard stems -- they really picked up all the flavors of the dish and added a great texture. I'm always looking for new ways to use the chard that seems to come every week in our organic produce delivery and this recipe is definitely a keeper. Thanks!!
Place olive oil and or bacon fat or butter in a large pan over medium high heat, add onions and saute for 3 minutes. Add the sliced swiss chard stem and saute for 2 more minutes, add garlic and pepper flakes saute for 3 minutes. Add swiss chard greens or baby spinach and basil and 1/2 cup pasta water to wilt.
Fill a small pot with boiling pasta water with at least 4 inches and a 1/2 teaspoon white vinegar. Break each egg one at a time in to a small bowl then into the simmering water cover and poach for 3-4 minutes.
Meanwhile toss cheese, black pepper and pasta in the vegetable mixture. Add additional pasta water and or olive oil to your liking.
Plate the pasta mixture on to 4 plates.
Remove eggs from water with slotted spoon place one on each plate of pasta.
Garnish with bacon bits, additional pepper, cheese and basil if desired.
Before digging in break the poached egg and stir in to the pasta.
This`ll make it a creamy, yummy, comforting dish. Enjoy!