Carbless-Low Calorie Turkey Lettuce Wraps
Bergy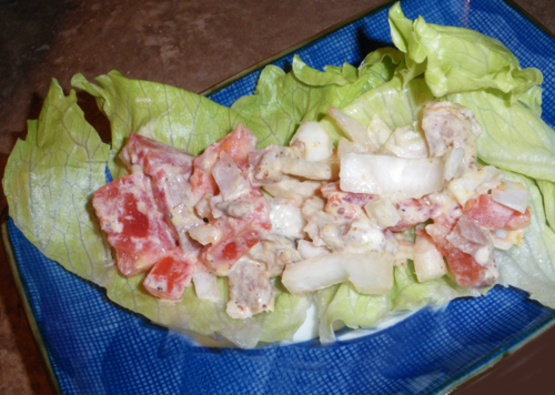 I'm not a huge participant in the low-no carb dieting. However, I am always concerned with my calorie intake. I find the easiest way to cut calories, is to cut out unneccessary carbs. One day, I decided to throw out the tortilla and try wrapping my meal in a lettuce leaf. You get the great taste and nutrition of a regular turkey sandwich or wrap, without the extra 200+ calories or added carbs. It's fast, easy, health and tasty!

I used to eat these when I was dieting and they became a lifestyle with me. I use romain lettuce because it makes a nice fold to hold the meat. My favorite is Ocsar Myer oven roasted turkey. I sometimes sprinkle some sunflower seeds or other salad toppings to give a little crunch. I make up 6 at a time , cut in half, and place in a zip lock container in the fridge, and snack off them all day.
Lay the lettuce leaf flat.
place turkey slices on first.
add red onions.
evenly distrbute mayo and mustard.
lay tomatoes on top.
season with salt and pepper, to taste.
tightly roll up the lettuce leaf.