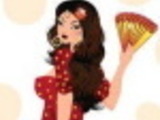 I could eat these everyday, now that I know I can make them I just might =)
Make and share this Carb Rangoons (YUM-O) recipe from Food.com.
6 ounces imitation crabmeat, finely chopped
1 (8 ounce) package cream cheese, softened
2 teaspoons onions, finely minced
2 tablespoons sugar
2 tablespoons water chestnuts, minced (optional)
oil, for frying
Directions
Combine the crab, cream cheese, onion, sugar, and water chest nuts.
Drop about one or one and one-half teaspoons of filling onto each wonton wrapper. Fold them into triangles and wet wrap with water to stick sides together.
Heat oil on medium-high heat in a skillet or deep fryer.
Fry the rangoons until browned.
When they're done frying, place on paper towel on a plate.