Rita1652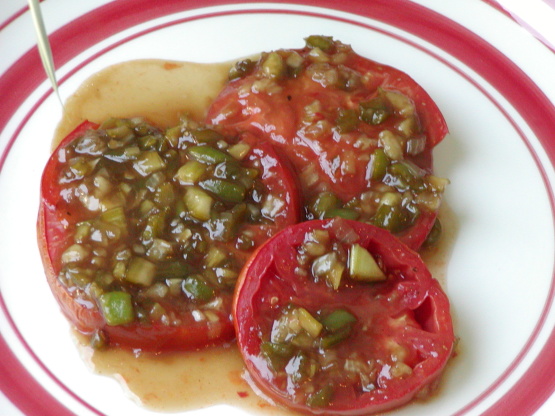 Adapted from 5 Star Tastes of the South cookbook. I have not tried this yet. Not exactly a dieter's dish, but this sounds good for a holiday table. (Tip: to easily skin tomatoes, drop them into boiling water for 30 seconds until the skins just start to blister, remove and peel, then core.)

I'm not leaving any stars as something went wrong with the operator. I plan on making this again, and hope to rate it at that time. Thnx for posting, HeatherFeather.
Arrange tomatoes in a baking dish.
Season with salt and pepper, then dot with butter.
Bake at 375 F for 20 minutes.
Mix diced veggies with brown sugar and cook over low heat in a medium pan, stirring, for about 10 minutes.
Make a paste of flour, 1 tsp salt, lemon juice, and a small amount of water (enough to make a paste).
Stir into the veggie mixture and cook until thick and smooth.
Pour over baked tomatoes.