Caramelized Sweet Potatoes and Peaches
Prep 10 mins
Cook 35 mins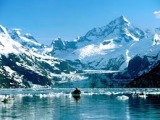 This is a Daphne Oz recipe. She likes to serve it alongside her Chile Jam Chicken, which I have posted as a separate recipe. Delicious side dish! Note: this serves two, but you can easily increase the amounts.
1 tablespoon organic coconut oil, melted
2 tablespoons pure maple syrup, room temperature (if it's cold, the coconut oil will solidify on contact)
1⁄2 teaspoon ground cinnamon
salt, to taste
1 medium sweet potato, scrubbed and cut into one-inch chunks
2 medium peaches, pitted and sliced into4 wedges each
1 medium sweet onion, peeled and quartered
Directions
Preheat oven to 450 degress F.
In a bowl, whisk the coconut oil, syrup, cinnamon and salt. Put the potato and peaches in 2 separate bowls. Pour 3/4s of the syrup mixture over the sweet potato and 1/4 over the peaches and toss each. Spread the potato in an even layer in a large baking dish and roast for 10 minutes. Toss the potato and roast for 5 minutes more. Add the onion and roast for 15 minutes. Toss the potato and onion, add the peaches in an even layer, and roast 10 minutes, or until the potato and onion are fork tender and the peaches have caramelized.
Reviews
Most Helpful
I absolutely love roasted sweet potatoes and the peaches are a real bonus. Of course, I made more than the recipe called for and adjusted the coconut oil and maple syrup accordingly. I elected not to add the onions; although I think caramelized onions are fab. Made for the For Your Consideration tag game.

Delightful side to Chile Jam Chicken. I'm not great at multi-tasking in the kitchen, but I was able to keep the vegetables on course while preparing the chicken, so I looked like a real chef, and both recipes finished at the same time. Whoa, I rarely experience that! Peaches are out of season, so I used an 8-oz. can of peach halves (drained). I loved the cinnamon glaze on the veggies. Will make this meal again, thank you for sharing. Made for Spring 2014 Pick A Chef.