Caramelized Sweet Potatoes
awalde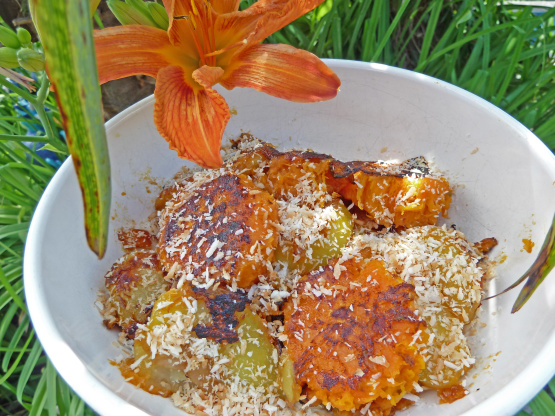 Incorporate just a couple of these simple luau recipes as this caramelized sweet potatoes into your Hawaiian luau menu and you'll delight (and dare we say, surprise?) your guests with your culinary skills and dazzle them with your knowledge of authentic Hawaiian food. It'll be almost as good as being there. Found online and adapted. Posted for ZWT7.

Sweet potatoes loved by my family. I didn't use coconut from personal preference. Made for Az swap.
4

sweet potatoes (or equivalent amount of canned yams, rinsed)
1⁄4 cup butter (or more, see note)
1⁄2 cup brown sugar (or more, see note)
1⁄2 cup water
1⁄4 cup shredded coconut (roasted if you prefere)
Boil 30 minutes potatoes or until tender.
Let cool and then peel and cut into 1-inch thick slices.
Place butter in a large saucepan or skillet and melt.
Stir in sugar and water and cook over medium heat for 5 minutes.
Lower heat and add potatoes.
Simmer for 20 minutes, tossing lightly to coat.
Sprinkle with coconut before serving.
Note: I reduced the amount of butter and sugar. Original quantities: 1/2 cup of butter and 1 cup brown sugar.