Caramelized Pineapple Sundaes With Coconut
Prep 20 mins
Cook 10 mins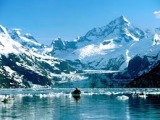 This dessert treat uses fat-free vanilla frozen yogurt, but you could substitute vanilla ice cream if you prefer. The flavors of coconut and the carmelized pineapple create a delicious topping. This is best when fresh pineapple is used. Sometimes you can find already peeled and cored pineapple in the produce department. From Food & Wine.
1 (2 lb) pineapple, peeled, cored and sliced into 1/2 inch rings
2 teaspoons vegetable oil
1⁄2 cup sweetened flaked coconut
2 1⁄2 pints non-fat vanilla frozen yogurt (or vanilla ice cream)
mint sprig, for garnish (optional)
Directions
Light a grill.
Brush the pineapple rings with the oil.
Grill over medium-high heat, turning occasionally, until the pineapple rings are lightly charred and softened, about 8 minutes.
Transfer the rings to a work surface to cut them into bite-size pieces.
In a medium skillet, toast the coconut over medium heat until golden, about 2 minutes.
Transfer the coconut to a plate to cool.
Scoop the frozen yogurt (or ice cream) into sundae glasses or bowls.
Top with the grilled pineapple, sprinkle with the toasted coconut, and garnish with mint sprigs (if using) and serve right away.
Enjoy!
Reviews
Most Helpful
This is so good and so simple. I toasted the coconut in the microwave, stirring after every 30 seconds. It takes about 2 to 3 minutes but toasts up nicely. I used fresh pineapple and vanilla ice cream. In addition to topping this with the coconut it was also topped with chopped macadamia nuts for a real tropical experience. Made for Aussie Swap.
Great treat! The toasted coconut and caramelized pineapple is wonderful. Thanks for sharing! ZWT7

This is a great Sundae! I added some banana slices on top of the coconut and pineapple rings. I did use the frozen yogurt, which was nice, because I sometimes can't tell the difference between frozen yogurt and ice cream anyhow! Since I have leftovers of everything, i will be making this again later this week, when it gets even hotter!