Caramelized Pears With Mascarpone
nitko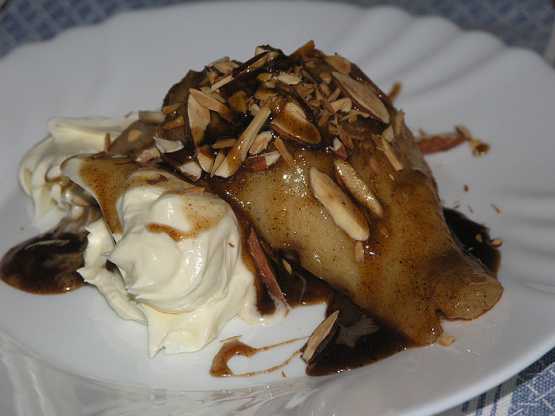 This is very good autumn recipe; really surprising in taste. You may replace honey with sugar, because I have heard from a friend of mine that honey is not recommended to be heated (something with intestines). Anyway, I am submitting the original recipe.
First mix mascarpone and sugar 2 ours before serving so sugar san join with mascarpone. Put it in cold place.
Roughly ground almonds and dry fry them until brownish.
Take a 24cm large heavy pan (preferably Teflon) and add honey, butter cardamom, cinnamon and inside "flesh" from vanilla (or package of bourbon vanilla sugar) and let it melt and join.
Peal the pears, cut in half and remove seeds.
Sauté the pears 8-10 minutes, turning them from time to time.
When ready, put some mascarpone on a plate, put half a pear on it, cover with caramelized spiced honey and cover with roughly grounded fried almonds (or pistachio).