Caramelized Parmesan Onions
Pneuma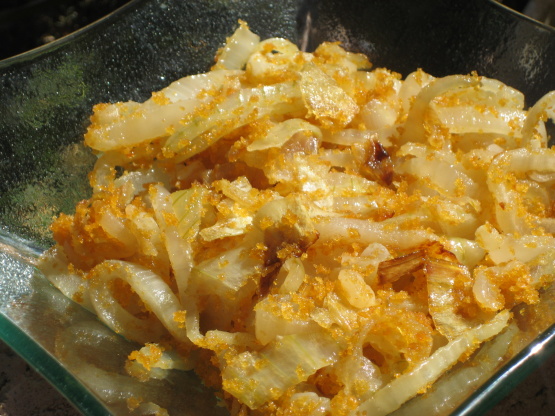 Good on it's own and also can be used to top casseroles, put in sandwiches, top baked potatoes, etc. You have the option of adding breadcrumbs or not.

Top Review by Pneuma
This sure is good on its own and is very simple. (Eating it now :) ) It's different from other caramelized onions I've tried but it stands on its own. I used a different but very good type of bread crumbs minus parmesan and ate this as is when I was too lazy to really cook for lunch. Thanks, Sharon. Lovely! My plate's now empty. :D
Place oil and butter in a medium skillet on medium high heat to melt butter.
Mix onion slices with salt and sugar.
Add to oil/butter mixture.
Turn heat down to medium.
Cook, stirring occasionally until onions are caramelized to a light golden brown, about 15-20 minutes.
Adjust seasoning. If using breadcrumbs, combine the bread crumbs and Parmesan cheese and toss with the onions.
Keep warm.
If not using breadcrumbs, toss the Parmesan cheese with the onions.
Keep warm.
Variations:.
If you wish, you may add a dash of balsamic vinegar or soy sauce.