Caramelized Onions & Fava Beans (Broad Beans)
Bergy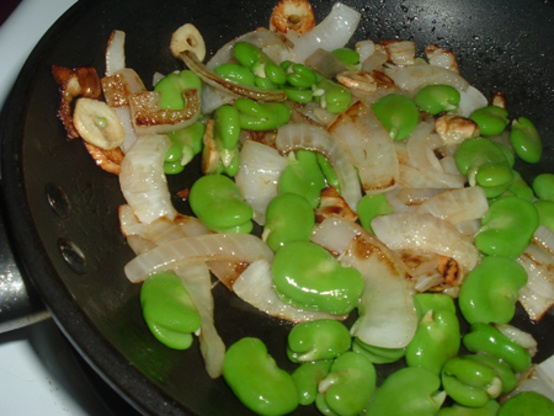 These beans are so delicious - fresh are best but they are a bit of a workup to clean & prepare. You may also use canned or frozen. Double or triple the recipe as you wish. Preparation time is for fresh beans - for canned or frozen it is apprx 15 minutes
This is a good recipe, but I added a teaspoon of taragon to give it a little boost.
If you are using fresh- shell the beans, add to boiling water, cook for apprx 10 minutes, dash into cold water and remove outer membrane from each bean.
If you are using frozen ensure they are cooked.
Canned are ready as is.
Heat the oil& Butter in a skillet add onions and garlic saute over medium heat until the onions are golden brown apprx 20 minutes.
Add Fava beans, cook until heated through.
Place beans& Onions in an oven proof dish.
Sprinkle with cheese and broil until cheese is golden.
You may make this dish ahead up to where you add the beans to the onions, place beans and onions in casserole dish, sprinkle with cheese and 25 minutes before serving pop into a 350F oven, broil for last few minutes to brown the cheese.