Rita1652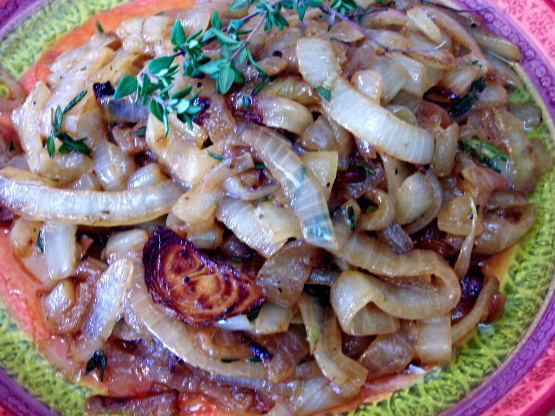 I just love these sweet onions! I put them on grilled Portobello mushrooms, hamburgers, steaks, omelets and on grilled vegetable sandwiches.
This is a very good recipe. I don't use thyme or rosemary because I use the caramelized onions in a variety of ways, some which don't go well with those herbs. If I use large onions I up the brown sugar to about double and sometimes I use butter and other times olive oil. The basic recipe is easily tweaked to fit your tastes. I use the recipe as written for making chicken meatballs. It flavors them beautifully.
In a large skillet, melt the butter over medium-high heat.
Add the onions and reduce the heat to medium-low.
Cook slowly, stirring occasionally, until golden brown and caramelized, about 30 minutes.
Add the thyme, rosemary, salt and pepper, and brown sugar; stir well to combine.
Cook for 5 more minutes.