Caramelized Onion Skillet Corn Bread
Rita1652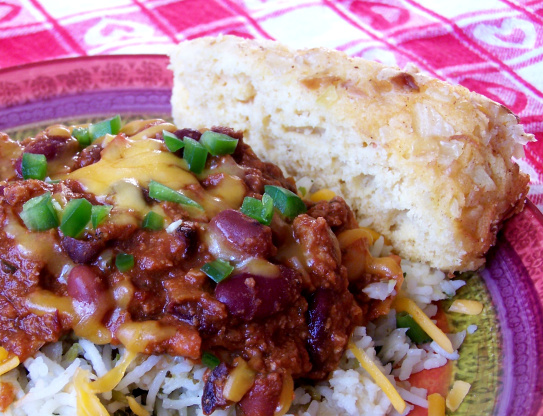 As part of GMA's $15 Dinner Dare series, each day an anchor unveiled a list of secret ingredients, then a chef had to prepare a tempting family meal live on the air with the newly unveiled ingredients. Emeril Lagasse was the second chef to take on the challenge. His list of surprise ingredients included only vegetables: black beans, pinto beans and spinach, so he contrived this side dish from the GMA pantry. I've never known anyone who could instantly caramelize onions, so this method was a huge surprise. Now, if you'd rather be more traditional, you can always caramelize onions (cut in 1/2 inch pieces) in the skillet over medium heat using a couple of tablespoons of butter and a little oil, sauteing until they turn brown and caramelize, then melt the remaining butter in the skillet (add sugar here if you like sweet cornbread) and continue with the recipe as written. Prep time includes time to heat the skillet.

This was made as part of my Menu #34323. I did melt the butter in the preheated pan. Seeing how much there was when it was half melted I removed the solid piece. I suggest to melt the butter use half in the batter. I found the batter stiff and the bread dry. I do suggest a touch of sugar or honey. Thanks!
Preheat oven to 500 degrees with a well-seasoned 10-inch cast iron skillet in it for about 10 minutes.Meanwhile, in a large mixing bowl, combine cornmeal, flour, salt and baking powder. Stir with a whisk to combine ingredients. In a separate small mixing bowl, mix eggs and buttermilk until combined. Add to dry ingredients.
Carefully remove skillet from oven and melt one stick of butter in it. Add diced onion to pan and stir.Immediately pour batter into the cast iron skillet with the "instantly" caramelized onions and butter.
Bake at 375 for 20 minutes until a knife inserted in middle comes out clean. Let rest for 10 minutes and then turn out onto a plate.