gailanng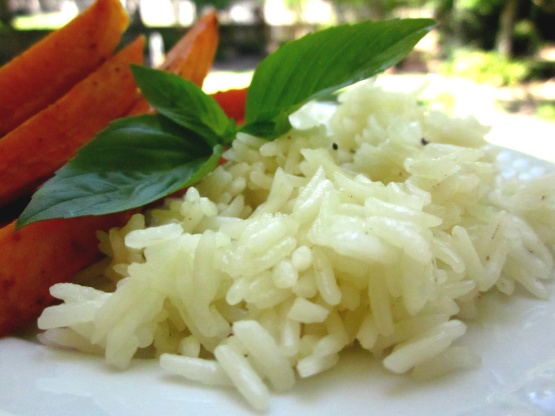 I made some very simple chicken kabobs and had some onion bits and pieces left over, so I decided to make some rice to go along side it. This is all stuff I had on hand (I just got back from World Market which is why I had the garlic and basil oil on hand) and this is definitely a one off from plain white rice. And I promise it's not too oily! Enjoy!
Heat extra virgin olive oil in a pot on medium/high heat. Add diced onions and stir. Cover and let them cook for 1-2 minutes, stir, and cover and let them cook for another 1-2 minutes, just until they turn brown.
Add rice, garlic oil, basil oil, and salt and pepper and stir until well combined.
Add chicken broth, stir, bring to a boil (should be fairly quick), cover, turn down to low and let simmer for 15 minutes.
Turn burner off and let rest for 5-10 minutes without taking the lid off. When done, stir/fluff and serve.