Caramelized Onion Mashed Potato Soup!
Rita1652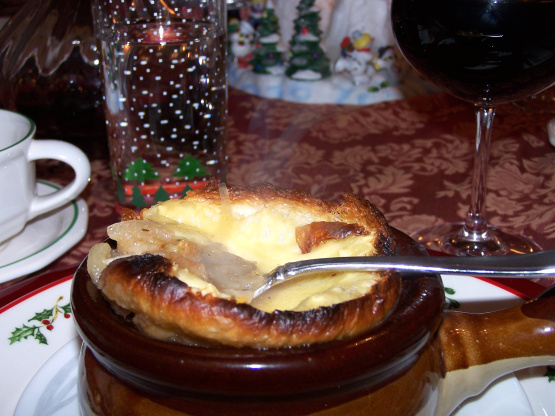 Combo of French onion soup and creamy potato soup. A nice use for leftover mashed potatoes is in this soup used to thicken and giving more creamy comfort without cream or flour. Caramelized Sherried Onions or Caramelized Adobo Onions can be followed for this soup for a different twist.

Made this today for lunch. Due to weather, we didn't go to work, but I did some work from home. My boss stopped over with another co workers so I made this. I just made some quick mashed spuds in the micro and presto, spuds! This was great. I got some wonderful onions from the market and plenty of herbs so this was great. I didn't have croissants but some not baguettes sliced which worked fine and I almost always have gruyere which is a fave of mine. What a nice creamy soup. No complaints on this end and will definitely make again, it was very very good. 1 change, I added a bit more thyme but I also used fresh, but a tablespoon, but I really enjoy thyme. Only change. Perfect as is. And it didn't take long. I had 2 lbs of shrimp to cook, so we had peel and eat warm garlic shrimp and soup. Nothing more needed. It was heavenly and on a very very cold day even better. Thx for the great recipe.
Heat the oil and butter in a large pot over medium high heat till it stops sizzling.
Add onions and reduce the heat to medium-low.
Cook slowly, stirring occasionally, until golden brown and caramelized, about 15 minutes. Add garlic cook 15 minutes. Add pepper, pepper flakes, bay leaf, thyme and sugar.
Pour in sherry, deglazing pot and reduce for 1 minute.
Add Broth and Worcestershire sauce.
Bring to a boil lower heat to a simmer and cook for 10 more minutes.
Add mashed potatoes stirring in till creamy smooth and heated throughout. Taste and adjust seasoning. Salt should wait till now because the mashed potatoes, broth and Worcestershire sauce all contain salt.
Toast bread in oven and top with your favorite cheese and place on top of soup and serve topped with a garnish of scallions.