Caramelized Onion Frittata
Kiwiwife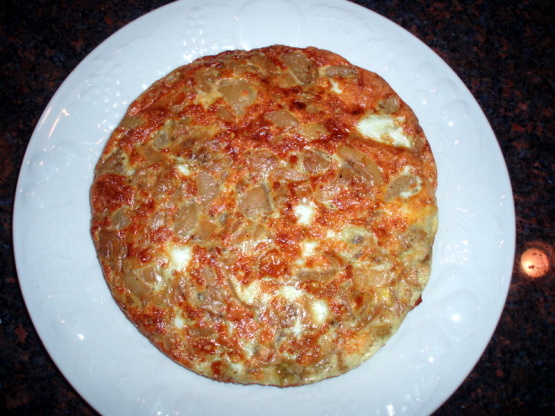 Delicious treat for onion lovers. From Cooking Light.

I made this with onions I had already caramelized in the crockpot. Otherwise made this recipe as directed. The flavor is so-o very good! I'll be making this one again! Made for Aussie #17.
Place potato and 3 tbs water in a small bowl. Cover with plastic wrap, vent and microwave 4 minutes or until tender, stirring once. Set aside.
Heat a 10" skillet over med-high heat. Coat pan with cooking spray and add onion.
Cover and cook 10 minutes or until lightly browned, stirring occasionally.
Uncover and cook 10 minutes or until golden brown, stirring frequently. While onions cook, add 1/3 cup water, 1 Tbs at a time to prevent sticking.
Stir in potato, sage, salt and pepper. Spoon into bowl and cool.
Combine 1/4 cup cheese, milk, egg whites and eggs in a bowl.
Add egg mixture to potato mixture and stir well.
Preheat broiler.
Pour mixture into skillet coated with cooking spray.
Cook over medium heat for 7 minutes or until bottom of frittata is browned and top is almost set.
Sprinkle remaining cheese on top and broil for 5 minutes or until cheese melts and top is set.