Caramelized Onion-Cranberry Cream Cheese Bites
WiGal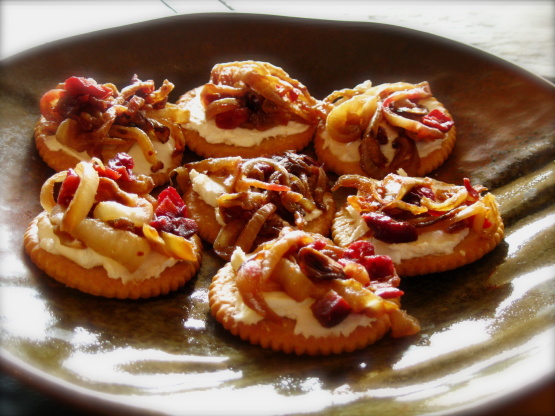 "Bite-sized hors d'oeuvres combine cream cheese spread, whole grain crackers and a cranberry topping for a yummy salty and sweet treat." This is not a TAT recipe. Just posting so I don't lose track of it. Found on myrecipes.com. You can make the Caramelized Onion-Cranberry Compote a day ahead and store it in an airtight container in the fridge. Let stand at room temperature 30 minutes before serving.

Top Review by WiGal
Man oh man this is addictive stuff! Loved it! Cranberries make it unique. I made a half batch. Our dinner guests gave it a thumbs up too. I did make the first aspect ahead. I generally buy a buttery cracker like Ritz so that is what you see in pic but the whole wheat would be a better choice as then it would be less sweet. Can see this in a sandwich also. Thanks kittycatmom for sharing.
Melt butter in a large skillet over medium heat; add onions, and sauté 15 to 18 minutes or until golden and tender. Stir in vinegar and remaining ingredients; cook, stirring occasionally, 2 to 4 minutes or until liquid is reduced to about 2 tablespoons.
Caramelized Onion-Cranberry-Cream Cheese Bites: Spread 16 whole grain crackers each with 1 1/2 teaspoons 1/3-less-fat cream cheese; top each with 1 tablespoons Caramelized Onion-Cranberry Compote. Garnish with fresh cilantro or parsley leaves.