Caramelized Onion Burgers
Lvs2Cook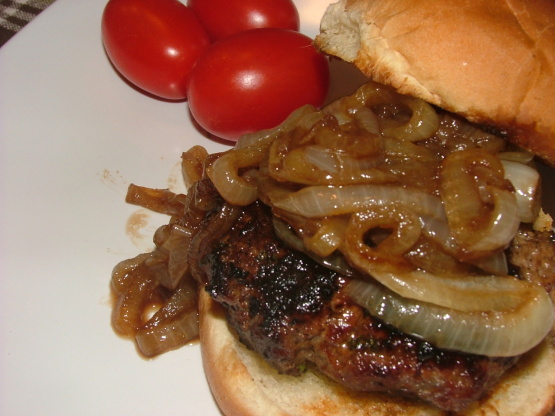 An excellent grilled burger from the Southern Living's cookbook "30 Years of Our Best Recipes".

We only made the Caramelized onions from this recipe but It was really lacking in something and couldnt figure it out. I would only give it two stars but gave it 3 because it may have tasted a whole lot better if I made It with the burger, Who knows.
Cook onions and sugar in hot oil over low heat 20 to 25 minutes until onion is caramelized, stirring often. Stir in the 1/4 cup water, vinegar, and 1/4 teaspoon of the salt. Set aside and keep warm.
Combine beef, parsley, tomato paste, Worcestershire sauce, 1/2 teaspoon salt, and pepper. Shape into 4 patties.
Grill over medium-hot heat until beef is no longer pink.
Serve on buns with caramelized onions, tomato slices and lettuce.