Caramelized Onion and Horseradish Mashed Potatoes
JustJanS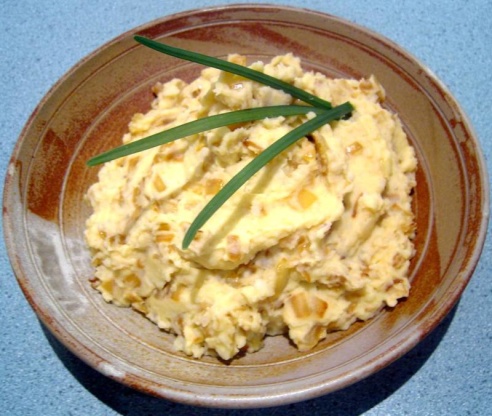 What a wonderful addition to plain mashed potatoes! These go really well with a grilled steak, ribs, or a grilled tuna steak.Originally from Cooking Light, it's comfort food fit for company!
Melt 1 tablespoon butter in a medium nonstick skillet over medium-high heat.
Add onion and sugar; sauté 10 minutes or until caramelized.
Remove from heat and stir in vinegar if desired.
Place potatoes in a saucepan and cover with water.
Bring to a boil; reduce heat and simmer for 15-20 minutes or until tender.
Drain and return potatoes to pan.
Add 3 tablespoons butter and milk; mash to desired consistency.
Cook 2 minutes or until thoroughly heated through, stirring constantly.
Combine Dijon mustard and remaining ingredients in a small bowl, stirring with a whisk until blended.
Add Dijon mustard mixture and caramelized onion mixture to potato mixture, stirring to combine.
Serve.