Caramelized Onion and Canadian Bacon Strata
GaylaJ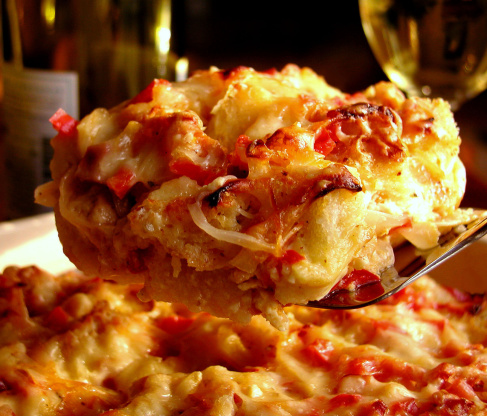 This was easier to make than I expected and completely delicious (we ate WAY too much of it). I had a little trouble fitting it into an 11x7 pan; next time I'll go with a 12x8 or 9x13.
Melt butter in a large nonstick skillet over medium-high heat.
Add onion, and sauté 4 minutes.
Reduce heat; cook 10 minutes or until golden brown, stirring occasionally.
Add bell pepper; cook for 1 minute.
Remove from heat; stir in bacon.
Arrange 3 cups bread in an 11x7-inch baking dish coated with cooking spray; top with half of onion mixture.
Repeat layer with remaining bread and onion mixture.
Combine milk and next 5 ingredients (milk through eggs) in a medium bowl; stir well with a whisk.
Pour egg mixture over bread mixture, and top with the cheese.
Cover and refrigerate at least 8 hours or overnight.
Preheat oven to 375°F­.
Let the casserole stand 30 minutes at room temperature.
Uncover and bake at 375°F­ for 40 minutes or until golden brown.
Let stand 5 minutes before serving.