Caramelized Nectarines over Baked Cod
Rita1652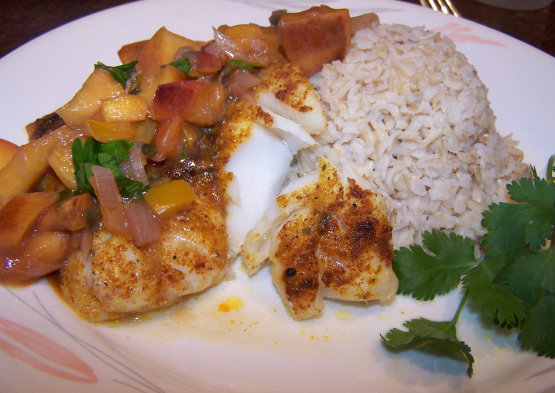 Spiced baked cod topped with a hot sweet nectarine salsa.
I must start this review by saying that I'm really not a fish lover at all, I want to vary my diet by adding fish, but I wanted a recipe full of other flavours so the fishy taste wasn't overpowering. This dish succeeded in so many ways. I followed the recipe to the letter even though I was sceptical of adding nectarines. It was superb and all done in less than 30 minutes. A household favourite from the first try.
Preheat oven to 450 degrees.
Rub cod with oil.
Place cod in a oven proof dish in one layer.
Mix the spices and dust the cod.
Bake 8 to 10 minutes or until cod flakes easily when tested with a fork.
Or until until the fish reaches an internal temperature of 145 degrees.
Meanwhile prepare nectarine.
Heat the butter and oil in a large skillet over medium heat saute onions, peppers and garlic for 5 minutes.
Add the nectarines and saute them until they their juices reduce and begin to thicken, 2 to 3 minutes. Sprinkle the sugar over them and saute until the juices further thicken and the sugar caramelizes slightly, about 1 minute.
Add the balsamic vinegar and saute until the juices thicken. Toss in fresh herbs of choice.
Plate fish and top with caramelized nectarines.