Caramelized Chicken Wings
ImPat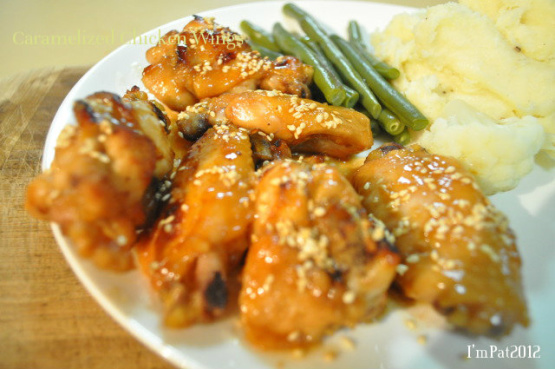 This came from One Dish Recipes: The Greatest One Dish Recipes Ever. I have not tried this, just posting for future use.

These are delicious, and so easy! I don't think one chicken wing would do for 2 people, so I used about 5 (jointed)--it was perfect, with enough leftovers for lunch the next day. I like ChefMasterFlex's idea of adding a chile, so I'll do that next time ('cause there certainly will be a next time!). Thanks!
Blend the water, sugar, peanut butter, soy sauce, honey, garlic, and wine vinegar together over medium heat in a large electric skillet till the sugar has dissolved and the consistency is smooth.
Put the wings in the sauce, cover it and let it simmer for 30 seconds.
Now uncover it and let it simmer for 30 minutes till the wings become soft and the sauce thickens, occasionally putting sauce over the wings.
Add sesame seeds.