Caramelized Cardamom Apples With Pistachio Cream
COOKGIRl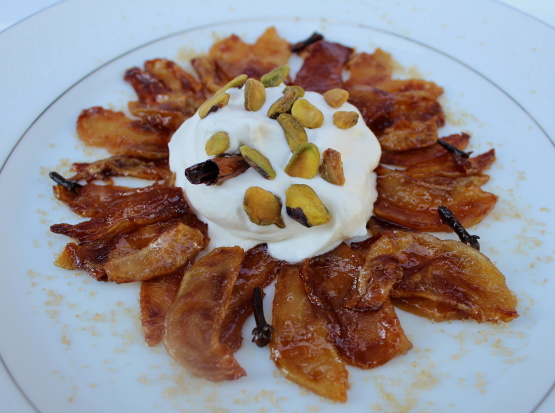 This is from Madhur Jaffrey's Quick and Easy Indian Cooking. This dessert has nice textures and flavors, but as written, is not particularly sweet. You could try adding some sugar to the whipped cream topping if you like it sweeter.

This recipe rates on the high end of 4 stars. First, I cut the recipe down to one serving. I skipped adding pistachios to the whipping cream and instead replaced the pistachios with about 1/4 teaspoon rose water. The apples, whole cloves, part of a cinnamon stick, ground cardamom and unbleached sugar were added to the pan and cooked as indicated. Next, I increased the heat to medium-low and warmed the spices with the apples. Next, I increased the heat to medium and finished caramelizing the apples for about 5 minutes then reducing the heat further to medium-low to avoid burning the mixture. If you were to cook the apples and nuts as indicated in the recipe, they would all burn. I chose only one nut to showcase in this recipe-the others were redundant and took away from the simplicity of the recipe. This is easy and elegant and in less than 20 minutes I had a delicious dessert! Reviewed for Help a Naked Recipe.
Whip the cream lightly in a bowl till it just holds its shape, but is not stiff at all.
Fold half of the pistachio nuts into the cream, cover and refrigerate.
Melt the butter over low heat in a large nonstick skillet. Take the pan off the heat.
Peel, core and slice the apples thinly, dropping the slices into the butter as you cut them.
Fold them into the butter as you go so that they do not discolor. (If you like, you could keep the pan over very low heat as you do this.).
Add the cardamom, cinnamon, cloves, sugar, almonds and walnuts.
Cook on medium heat for 2-3 minutes, stirring gently as you do so.
Turn the heat to high; cook for 8-10 minutes, stirring very gently now and then, till apples have caramelized lightly.
Serve on individual plates with a dollop of cream partially on, partially off the apples.
Sprinkle remaining pistachios over the cream.