Boomette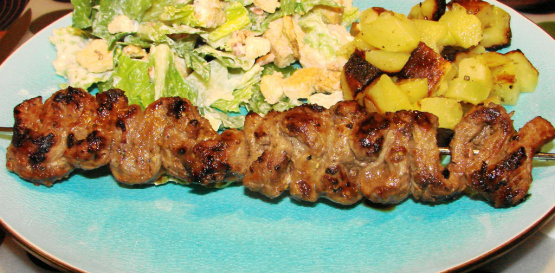 Beef skewers with thinly sliced beef sirloin and glazing them on the grill with spiced up BBQ sauce . You can serve this as an appetizer, on a salad, or on toasted rolls. From my local newspaper.
Wow this was so good. The steak was in the marinade more than 10 minutes. Maybe an hour. The meat was so tender. And great flavors. I only omitted the red pepper flakes. DH loved it also and he told me he was sceptic about the basting. He usually prefers his meat without marinade. Thanks Doug :) Made for PRMR tag game
toss steak with 2 tablespoons of the steak sauce, let stand for 10 minutes to marinate.
Meanwhile, combine remaining tablespoons steak sauce,the barbecue sauce, mustard, onion powder, garlic powder, black pepper, and red pepper.
Set aside.
Preheat grill to medium high heat.
Thread steak onto eight long soaked wooden or metal skewers.
Grill skewers 6 minutes or until steak is cooked through, turning after 3 minutes, and brushing generously with barbecue sauce mixture.