Caramelized Apple Pecan Pie
Hey Jude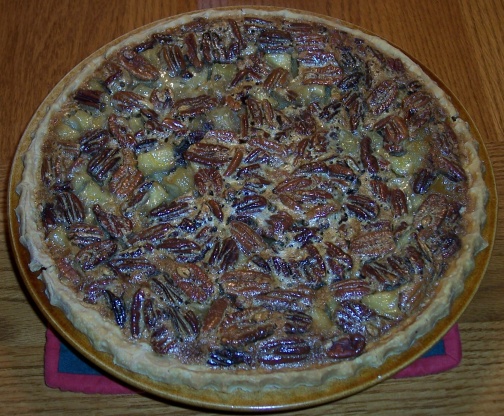 A delicious pecan pie with granny smith apples. This makes a 10 inch pie.

Great pie, the roasted pecans make it, they add so much flavor. I didn't add the apple brandy as I didn't have it on hand. Make sure you use a full 10-inch pie pan and make your crust up high to be able to contain all the filling. The non-stick foil tip is great for keeping the crust from getting too brown. We had this with good old vanilla ice cream and my daughter, lovingly, congratulated me on finally making an apple pie that she likes (she's kind of non-traditional). Thanks Barb for yet another keeper :)
Melt and cool one stick of butter, set aside.
Peel and core the apples, cut into 1/2-inch diceed pieces.
Preheat the oven to 350 degrees and place pecans on a baking sheet; roast about 7 minutes, or until toasty; transfer to a plate to cool; Reduce oven heat to 325 degrees.
In a large, non-stick skillet, melt 4 tablespoons of the butter with the 1/4 sugar over high heat; add the apples, stirring frequently, cook until browned: Add brandy and cook until evaporated, let cool.
In a large bowl, combine brown sugar and corn syrup, flour and cooled melted butter; beat in eggs and vanilla.
Spoon caramelized apples into a ten inch pie crust; pour the custard over the top; scatter the pecans on the top of the custard, pressing in and pecans that protrude.
Bake for about 1 hour or until custard is set, If crust browns too quickly, cover loosley with a piece of foil (release foil works great), Best served with whipped mascarpone cheese or whipped cream.