Kiwi Kathy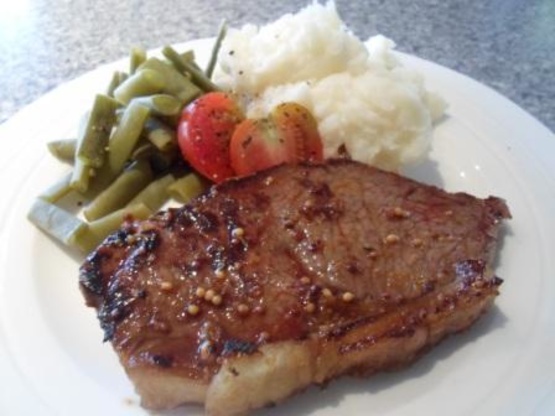 Fantastic recipe posted by Kookaburra in response to an Aus/NZ forum post. I cooked in a pan with a little butter but next time will try on a BBQ grill plate. Original recipe called for demerara sugar, I used palm sugar but I think brown would be fine as well.

Made this for dinner tonight, cooking it on a Le Creuset Grill Pan -- it came out just perfect. I used Splenda Brown Sugar Blend (1/2 the amount) and it was delicious. Served with Creamy Carrots (308851) and Garlic Dill New Potatoes (109117) and we had a fabulous dinner. Thanks so much for posting!!
Mix all the marinade ingredients (everything except steak) in small bowl.
Lightly brush both sides of steak with about 50% of the marinade and place covered in refrigerator until ready to use.
Also place the remaining marinade in the rerigerator until read to use.
Cook steak in a pan with a small amount of butter or on a grill plate to your usual preferences, turning and basting with the remaining marinade several times.
Serve with mashed potatoes and vegetables.