Caramelised Red Onion Chutney Recipe
JustJanS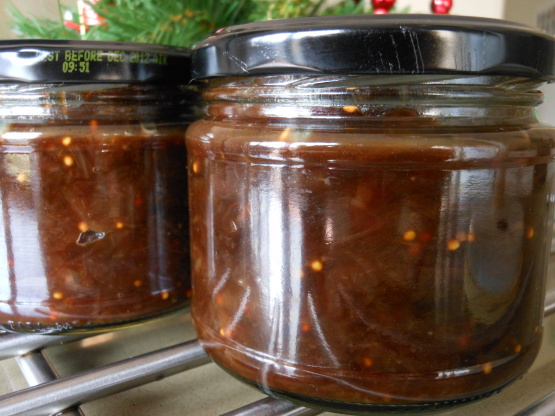 This one is a really lovely chutney. Use it on or in quiches, pizzas, plain biscuits, sandwiches or just with a cheese platter, I am sure you will love it. I do keep this in the fridge, and it never lasts long, so I am not sure as to its time of keeping, but would say at least 5-6 months.

This is so good. I doubled the recipe and got 5 jars which we gave 3 away as Xmas pressies but now we have none left for ourselves. Need to make some more very soon especially as the last batch didn't even sit for a week. Dave reckons it's the best on toast with a slice of cheese.
Cut the onions and chilli into thin slices, then cut onion slices in half again and put them into a pan with bay leaves, chilli and oil. Cook gently over a low heat for about 20 minutes.
When the onions are dark and sticky, add the sugar, the vinegars and mustard seeds, simmer for about 30 minutes, until the chutney is thick and dark. (Stirring at intervals so the chutney does not stick to the pan).
Pour the chutney into hot, sterilised jars seal and let chutney cool.
You must have a taste but really (before you eat it) this should left for a month or maybe even more for the flavours to blend and mature. .