Boomette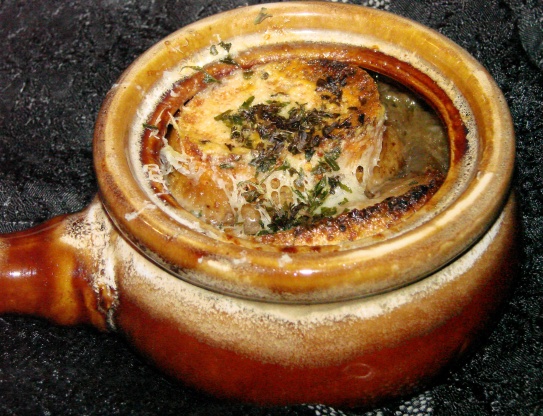 This is and easy to make soup and it is great for those cold winter nights! Delcious if you love onions.
This is a great soup. I used white and red onions. Since I don't have bonox stock in Canada, I used beef bouillon powder (low sodium). It was perfect. It gave the soup a great taste. Yesterday I tried it with parmesan and dried parsley. It was very good. And tonight we ate it with emmental cheese. Both way are great. Thanks Tisme :) Made for Make my recipe tag game
Heat the butter in a large pan over low heat. Add sliced onions and cook until soft, translucent and lightly browned, stirring often.
Add the sugar and continue stirring until the onions are deep brown in colour. This may take around 20 minutes.
Add flour and cook for 3 minutes. Add water and Bonox and simmer for 30 minutes.
Top each slice of the baguette with a tablespoon of parmesan cheese. Toast baguette under a hot grill until golden brown.
Serve baguette on top of the soup, and sprinkle with chopped parsley.