Suzie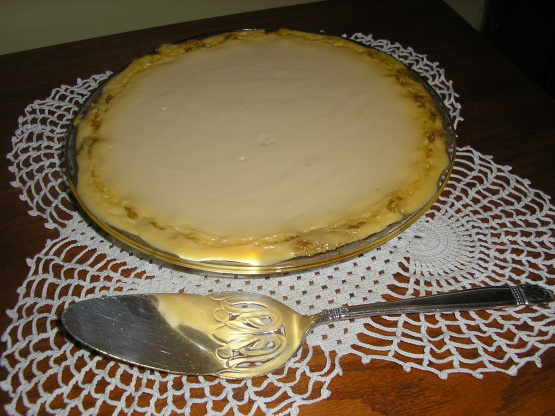 Away on business for 10 days, I was about to board a plane back home when I got a call to tell me we were having unexpected guests for tea that evening. In a crunch, I sent a text message to my 15-year-old daughter, asking her to please pop over to the bakery. My daughter then discovered that her scooter was out of action, not being able to reach me as I my flight had just taken off she decide to make something herself, this recipe she put together herself. There is only one thing I can say, Yummy. Very quick and easy to make. Our guest went back for seconds.

Top Review by Suzie
Made for Fall, '09 PAC. I enjoyed making this as it was something entirely new for me. Nice and creamy. Very easy to make. Never even knew there was caramel yogurt. Makes me happy. The coconut biscuits and margarine made a nice base. 4 Minutes in the microwave. How can you go wrong? Thanks, Jeanine, for a smooth and creamy tart.
Base

200

g coconut biscuits

125

ml margarine

Filling

500

ml caramel yoghurt

380

g condensed milk

250

ml cream
Base:.
Melt margarine, crush the biscuits, mix the margarine and crushed biscuits together, and press in to a fluted tart dish set aside.
Filling:.
Mix the caramel yoghurt and condense milk together well, then pour onto the crushed biscuit base.
Cook in the microwave for 4 minutes on high.
Remove and let cool to room temperature then serve with dollops of fresh whipped cream.