Debbwl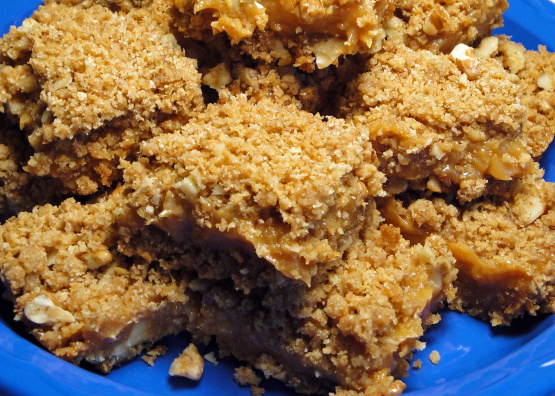 I cut this recipe out of the Sunday coupons 5+ years ago. I make them every Christmas for gift giving.
Preheat oven to 350°F.
Mix flour, sugar and egg.
Cut in ½ cup margarine until crumbly.
Stir in walnuts.
Reserve 2 cups of crumb mixture.
Press remaining crumb mixture firmly into a greased and floured 13x9 in pan.
Bake 15 minutes.
In a saucepan over low heat melt caramels with sweetened-condensed milk and remaining ¼ cup margarine.
Pour over prepared crust and top with reserved crumb mixture.
Bake 20 minutes or until bubbly.
Cool and cut into bars.
Store at room temperature.