Pamela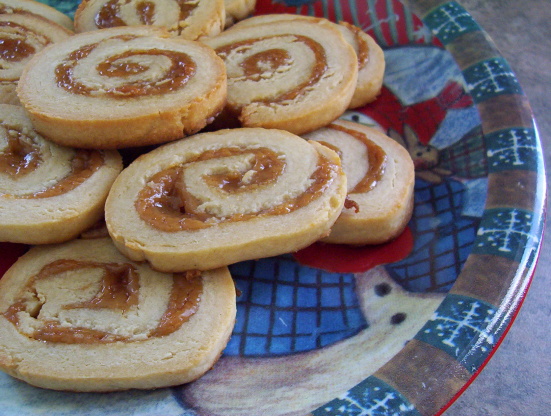 These are really good...had them first at a Church function...and just had to track down the recipe.

I have never made rolled cookies and I doubled the batch! I mixed them one day, then rolled them the next day and on the third day I baked them. Because this was my first time making rolled cookies I think I can improve on my rolling technique. They turned out very pretty and I loved the caramel flavor with the almost shortbread type of cookie. I will make these again and can't wait to let my friends try these delicious cookies. This is a wonderful, unique recipe and I would have never thought to make such a cookie or that such a delightful cookie even existed. So THANK YOU for posting this recipe. I hope more people try this tasty cookie!
In a large bowl, cream butter, cream cheese, and brown sugar,.when well mixed.
Add egg yolk and maple flavoring -- mix well.
Gradually add flour, mix to combine.and refrigerate for 2 hours.to chill well.
Meanwhile, in a saucepan, melt caramels, stir in cream cheese, until well blended.
Set aside.
Divide chilled dough in half.roll each portion between waxed paper to 1/4" thickness.
Spread caramel mixture over dough to within 1/2" of edges.
Roll up tightly, jelly roll style, starting at long side.
Wrap each roll in plastic wrap, refrigerate 4 hours.
Unwrap and cut into 1/4" thick slices.
Place 1" apart on greased sheets.
Bake at 350° for 12-14 minutes or until golden brown.
Remove to racks to cool.
To prepare CARAMEL FILLING:.
Unwrap caramels and place in a small sauce pan over low heat -- cook till melted, stirring occasionally -- add softened cream cheese, and stir to combine.