Caramel Spice Pear Butter
PaulaG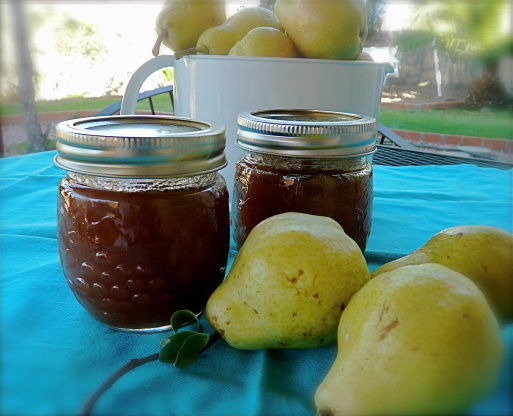 If you like making home-made preserves, then this easy to prepare Pear Butter is just for you. I found this recipe in an old Home Canning book many years ago and have been making batches every year. There's extra flavor richness in this pear butter that is contributed by the spices and some caramelized sugar. Enjoy!
My whole house smells wonderful! I have a batch on the stove now, and it tastes divine. One caution: Be careful with that caramel! I had it just right, turned off the heat, then stepped away for just a few seconds to get a spatula, and the retained heat burnt it black! No problem; I started over, but...newbies to caramelizing, be warned.

I'll make this again, for sure. Thanks!
Wash the pears but do not peel or core them; slice pears into a heavy saucepan (at least 5-quart size).
Add water, cover, and cook until tender (about 30 minutes).
Remove from heat and press the pears through a colander or a food mill.
Measure the pear pulp (you should have about 8 cups) and return to the pan.
Using a frying pan, heat 1 1/2 cups of the sugar, stirring until it melts and caramelizes to a medium brown color.
Pour immediately into the pear pulp (the syrup will sizzle and harden, but dissolve again as the preserves cook).
Add the remaining sugar, cloves, cinnamon, and ginger.
Cook uncovered, until thick (about 45 minutes).
Stir frequently as it begins to thicken to prevent it from sticking.
Stir in lemon juice just before removing it from heat.
Pour hot mixture into steralized 1/2 pint jars, put on lid, and crew band tightly.
Process in boiling water bath for 15 minutes.